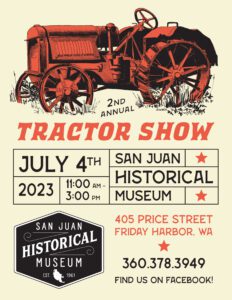 The San Juan Historical Museum is pleased to announce the 2nd Annual Tractor Show!
Following last year's success, the Tractor Show is on the Museum grounds after the July 4th parade from 11 am until 3 pm.
On display will be quite a variety of tractors used in San Juan Island farming, including a 1930 John Deere Model D, a 1947 International Farmall Model M and a 1962 Case Model 430. All of these beauties arrive at the Museum under their own power, and their owners will be happy to tell you all about them.
An antique 1929 Hart-Parr Model 12-24 will be running (loudly) so you can hear the sounds that filled the fields when 25 horsepower was the only available option. And a display of running "Hit and Miss" engines, the one-cylinder machines that ran farm equipment, such as milk separators and hay elevators.
The San Juan Historical Museum is located at 405 Price St., in Friday Harbor.
We look forward to seeing you at the San Juan Historical Museum Tractor Show next door to The Pig War Picnic!
Please Contact Kevin Loftus Our Executive Director with Questions at (360) 378-3949 / by Email at www.sjmuseum.org/contact-us/