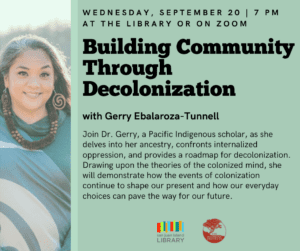 Join us for an enlightening presentation by Pacific Indigenous scholar Dr. Gerry Ebalaroza-Tunnell on Wednesday, September 20 at 7 PM.
Through a personal journey of rediscovery, Dr. G will delve into her ancestry, confront internalized oppression, and provide a roadmap for decolonization. Drawing upon the theories of the colonized mind, she will demonstrate how the events of colonization continue to shape our present and how our everyday choices can pave the way for our future. 
Don't miss this opportunity to broaden your horizons and chart a path towards a more inclusive and empowered future. Join us for an engaging presentation that promises to challenge and inspire.
This is a hybrid event, held both in person at the Library and streamed online via Zoom. To register and receive the Zoom link, please visit the Library's online events calendar at www.sjlib.org, or contact Frankie Thomas at fthomas@sjlib.org. If you wish to attend in person, registration is not required.