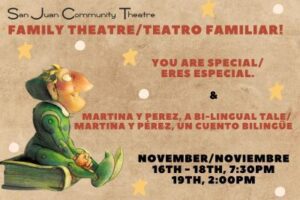 Family theatre: Parents and children grades k-6th
Directed by Penelope Haskew
You Are Special is a much-loved, modern-day parable, brought to life through seven songs by Mark, Helen and Naomi Johnson, with a script by Sue Langwade (writers of Aladdin Trouble and Cinderella & Rockerfella). This new musical has huge potential to help unpack the key values of acceptance and self-worth, and what better way to make these values 'stick' than to sing about them...?
Known by several names, Martina y Pérez is a traditional Latin American and Spanish tale about a beautiful little cockroach who is courted by a Cat, Dog, Rooster, and Mouse -- and later cooks a very dangerous pot of onion soup! Our bilingual version features all the familiar characters (including Ratón Pérez, the "Tooth Fairy" of Latin America) singing catchy songs full of Spanish and English vocabulary.