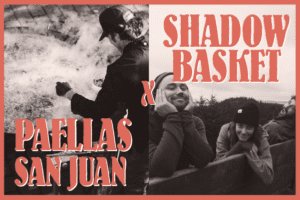 Let's drink some pints, listen to music, and eat some paella.
SUNDAY, MAY 28TH
PAELLAS SAN JUAN 12 PM - 4 PM
SHADOW BASKET 1 PM - 3 PM
Paellas San Juan 12 PM - 4 PM
We are SO excited to invite Paellas San Juan back to serve their incredible Mediterranean & Spanish cuisine out on our patio beer garden on the Sunday of Memorial Day weekend.
Shadow Basket 1 PM - 3 PM
Joining us on the patio is Shadow Basket! Shadow Basket is a 4-piece Dog Rock/Indie Folk band from San Juan Island, WA. Their performance brings artfully crafted sound elements, grounded harmonies, and beguiling droney jams to any live music setting.